NTS is 5: Skinny Girl Diet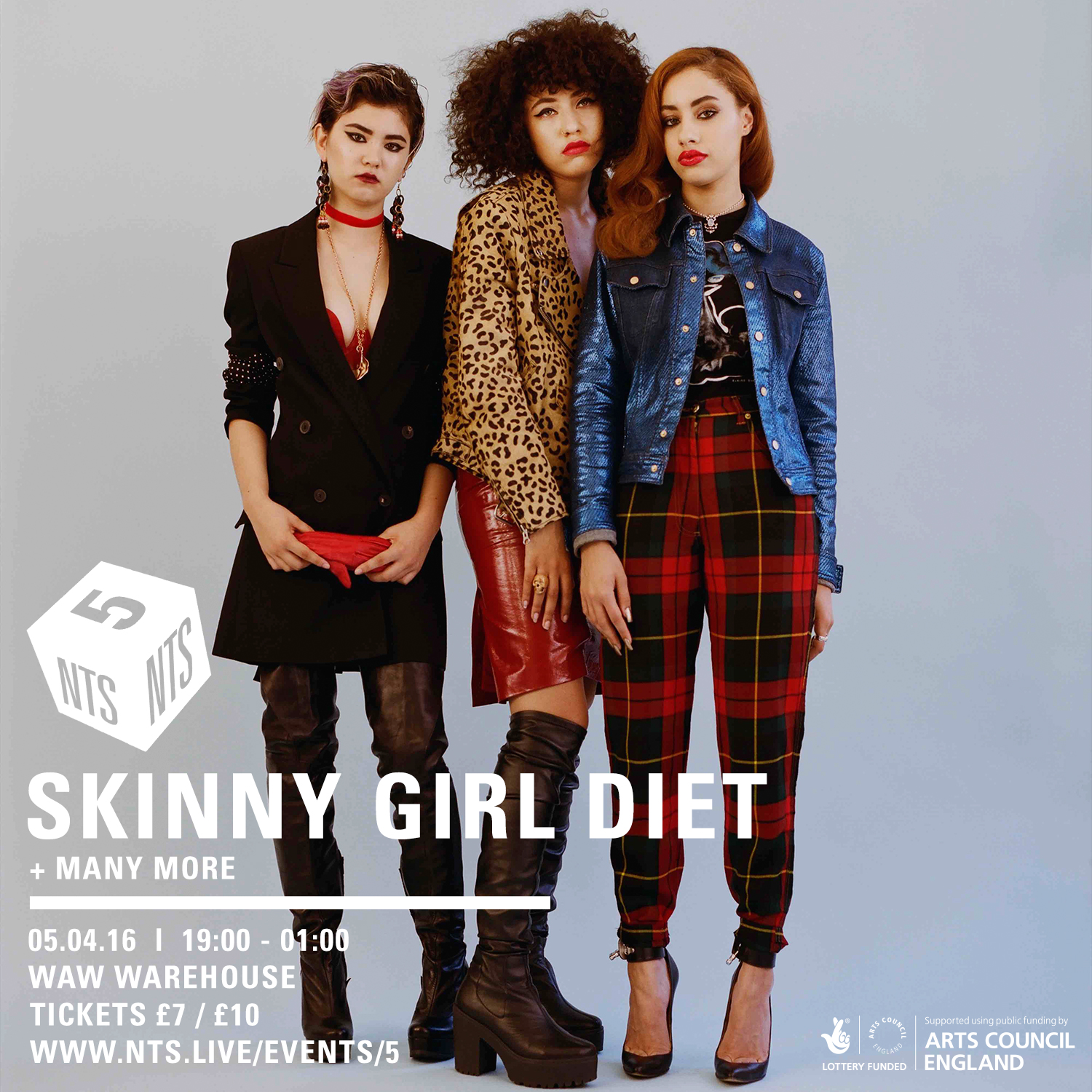 We asked Skinny Girl Diet a few quick questions ahead of their performance for our birthday, on Tuesday 5th April at WAW Warehouse in Hackney Wick.
What are you all at right now – some of you are still at uni, right?
We're all drop outs, the band is our life and is full time right now. Unsigned, we fund everything ourselves. Everything you listen to is from our brains and no one else's. None of that fatcat money making corporate music dogshit that they're cramming down your neck whilst labeling it punk/grunge. We're real working class young women who are trying to make genuine music.
Who are your biggest punk icons?
Amelia: Iggy Pop has always inspired us, and it's great that he's still so involved in the music scene.
Ursula: I think The Slits, X-Ray Spex, The Buzzcocks, The Ramones, Penetration and the Sex Pistols are punk royalty.

Delilah: I think MC5 had such a strong influence on punk, I love Rob Tyner's vocal style it's fucking amazing. The Adverts, The Germs, Alternative TV, The Fall, Kleenex/LiLiPUT, The Cramps, The Raincoats, Alice Bag, The Zeroes, Richard Hell, New York Dolls... the list could go on forever.

Thanks for helping us get loose for the birthday, you got anything special planned for the show?
The crowd are required to all be in their birthday suits and mosh, otherwise they are not allowed to see our set.
What is it that gets you excited these days?
The people that like us, as they are all geniuses, understand what we're doing, have good taste in music and are obviously lovely people.
What do you wanna see more of in the future?
Honest art that doesn't change in order to sell or please others. Self-love and the abolishing of gender. All those that feel oppressed (from racism, homophobia, transphobia, to sexism, etc) to rise up, fight those that are oppressing them and finally have a voice. Donald Trump and the Tories' heads on spikes to decorate the streets.
You can still buy tickets to see Skinny Girl Diet perform alongside Shopping, Spectres, Henge, Thought Forms and WAW from ResidentAdvisor.
Also still on sale is our show at Efes with Playboi Carti, Lafawndah, Neverland Clan and more, as well as Babyfather at Autumn St Studios, and our send-off at Corsica Studios with Funkineven, Eclair Fifi, Hieroglyphic Being, Bill Kouligas and many more.