REGISTER YOUR INTEREST - NTS x DIESEL TRACKS: LONDON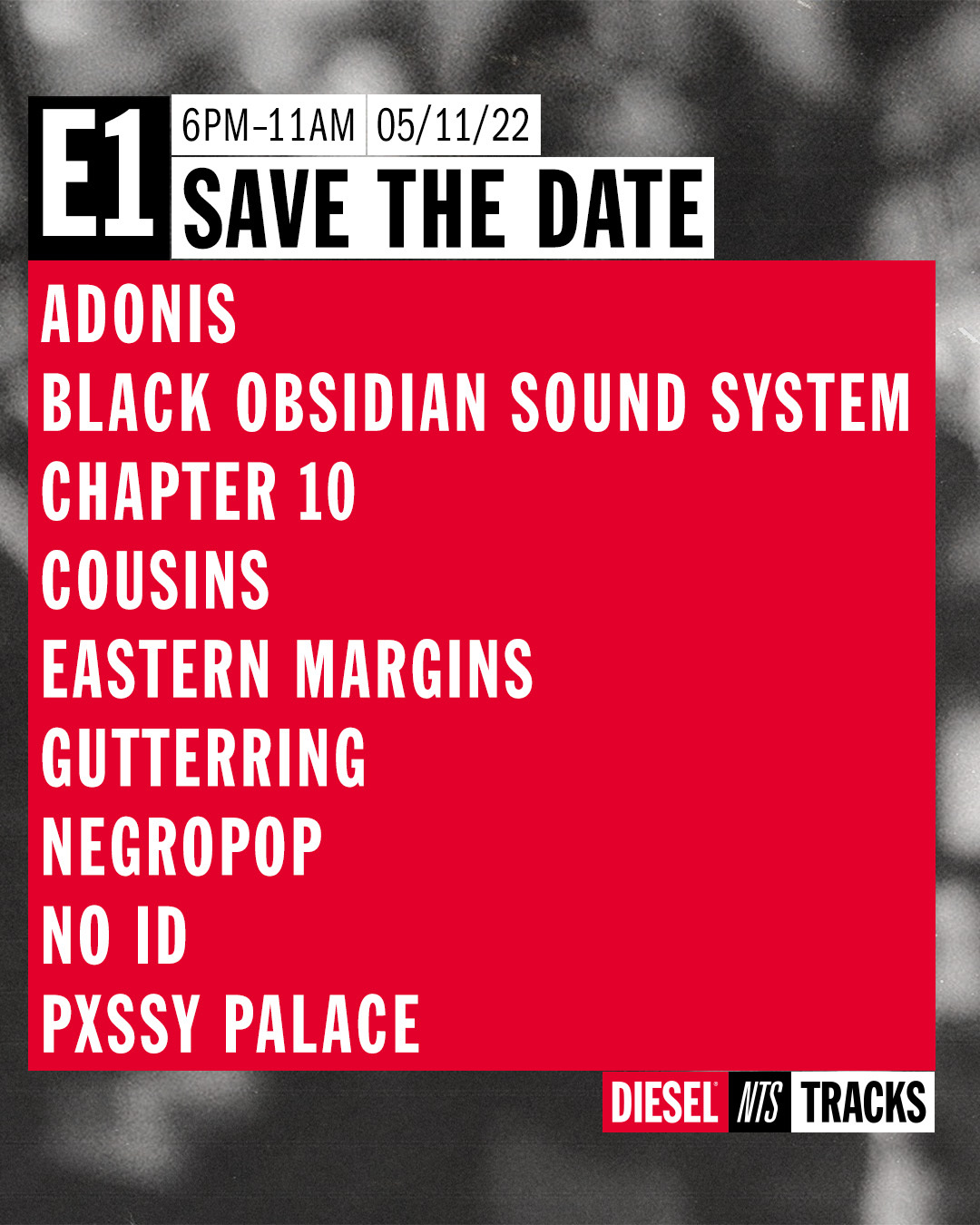 We're throwing a free, seventeen hour party with Diesel at E1 on November 5th.
Full line-up TBA, curated by the nightlife collectives below:
Adonis - the most highly celebrated queer underground promoters to have arisen on the London circuit over the past decade
Black Obsidian Sound System - a soundsystem focused on bringing together radical and artistic communities for queer, trans and non-binary black and people of colour
Chapter 10 - a legendary gay warehouse party, well equipped for a seventeen hour session: "NO COMPROMISE / ALL WELCOME"
Cousins - the UK imprint of the Canadian night of the same name, founded by Nino Brown. Cousins was formed from our love of blending shisha bar bangers, desi classics, bassline and garage… Its resident DJs are Manara, Basmati, Zaleel & A.G.
Eastern Margins - Eastern Margins is a collective, label and community dedicated to platforming the sounds and stories of the Margins of East and South-East Asia and its diaspora
Gutterring - cyberpunk club kids. In their own words: "sonic sunbursts : magick rituals hypermedia hell : pseudo-hardcore"
Negropop aka NPOP - NPOP are spearheading a new wave of DIY rap aesthetic in London and Manchester - a separate, parallel universe splinter off of Grime they've dubbed #grime2
No ID - Ahadadream's event series spotlighting British South Asian DJs and musicians
Pxssy Palace - "ORGANICALLY GROWN GIRL GANG. PROMOTING AND CREATING SPACES FOR YOU TO LET GO, FEEL FREE AND RELEASE YOUR INNER PUSSY. MEOW."
Free tickets drop on October 18th via DICE. Sign up below and we'll e-mail you when tickets go live.