Tune Into Japanese Jazz Week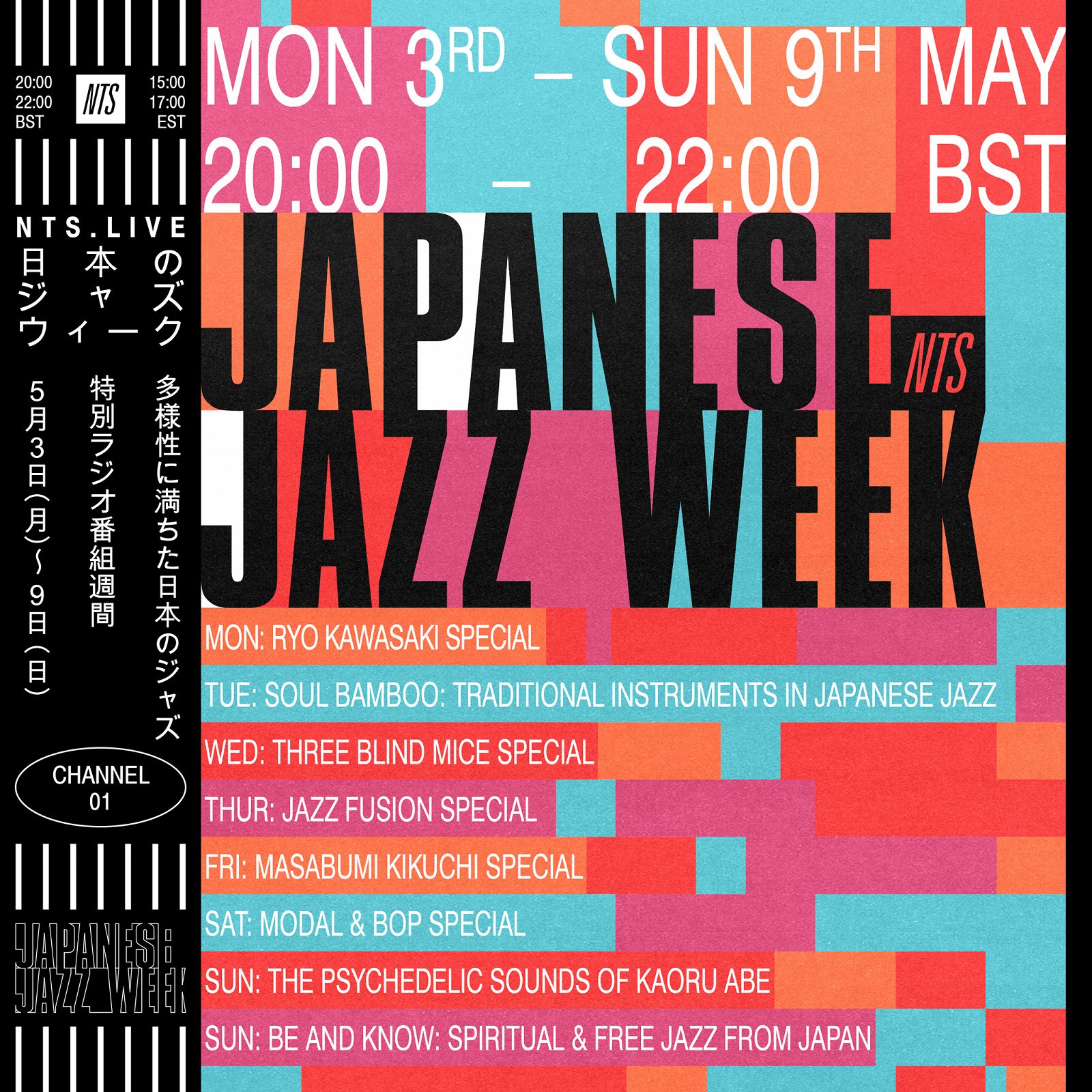 From Monday 3rd May, NTS celebrates the rich heritage of Japan's jazz scene through a series of one-off radio shows exploring the breadth of jazz in post-war Japan. Tune into NTS every evening from May 3rd to May 9th for sonic explorations into different subsets of the Japanese jazz movement, from the modal sounds of the late '60s through to jazz fusion in the '80s. Check out the full program below.
Each two hour show kicks off from 8pm BST (or 6am JST), so sit back, relax, pour yourself a whisky or a tea and immerse yourself in the sounds of Japanese jazz…
MONDAY 3rd MAY - Ryo Kawasaki Special
Exploring the back catalogue of renowned jazz fusion guitarist, band leader, and inventor of the 'guitar-synth', Ryo Kawasaki
TUESDAY 4th MAY - Soul Bamboo
Born out of the jazz fusion movement in the '70s and '80s, we look at music that brings traditional Japanese instruments from the shakuhachi to the koto into new jazz contexts
WEDNESDAY 5th MAY - Three Blind Mice Special
Often referred to as Japan's answer to Blue Note, Three Blind Mice was a specialist jazz label founded by Takeshi Fujii in 1970, renowned for the quality of its recordings
THURSDAY 6th MAY - Jazz Fusion Special
Popularised by artists such as Jun Fukamachi, Japanese jazz fusion heralded the widespread adoption of synthesizers such as the Minimoog and Arp, paving the way for city pop to come...
FRIDAY 7th MAY - Masabumi Kikuchi Special
With a career spanning classical, fusion and electronic music, we showcase piano virtuoso Masabumi Kikuchi's contributions to Japanese jazz
SATURDAY 8th MAY - Modal & Bop Special
Moving through piano heavy records from the late 60's to early 80s by the likes of Ryo Fukui, Takehiro Honda, and Shintaro Quintet….
SUNDAY 9th MAY
The Psychedelic Sounds of Karou Abe
Journey through the career of Karou Abe, an avant-garde saxophonist and one of the most enigmatic figures in Japanese jazz history
Be and Know: Spiritual & Free Jazz from Japan
A sonic exploration of Japanese free jazz, an important subsection of the wider jazz scene in Japan, largely centered around the New Jazz Hall, Tokyo's first dedicated free jazz venue