Listener's Digest 019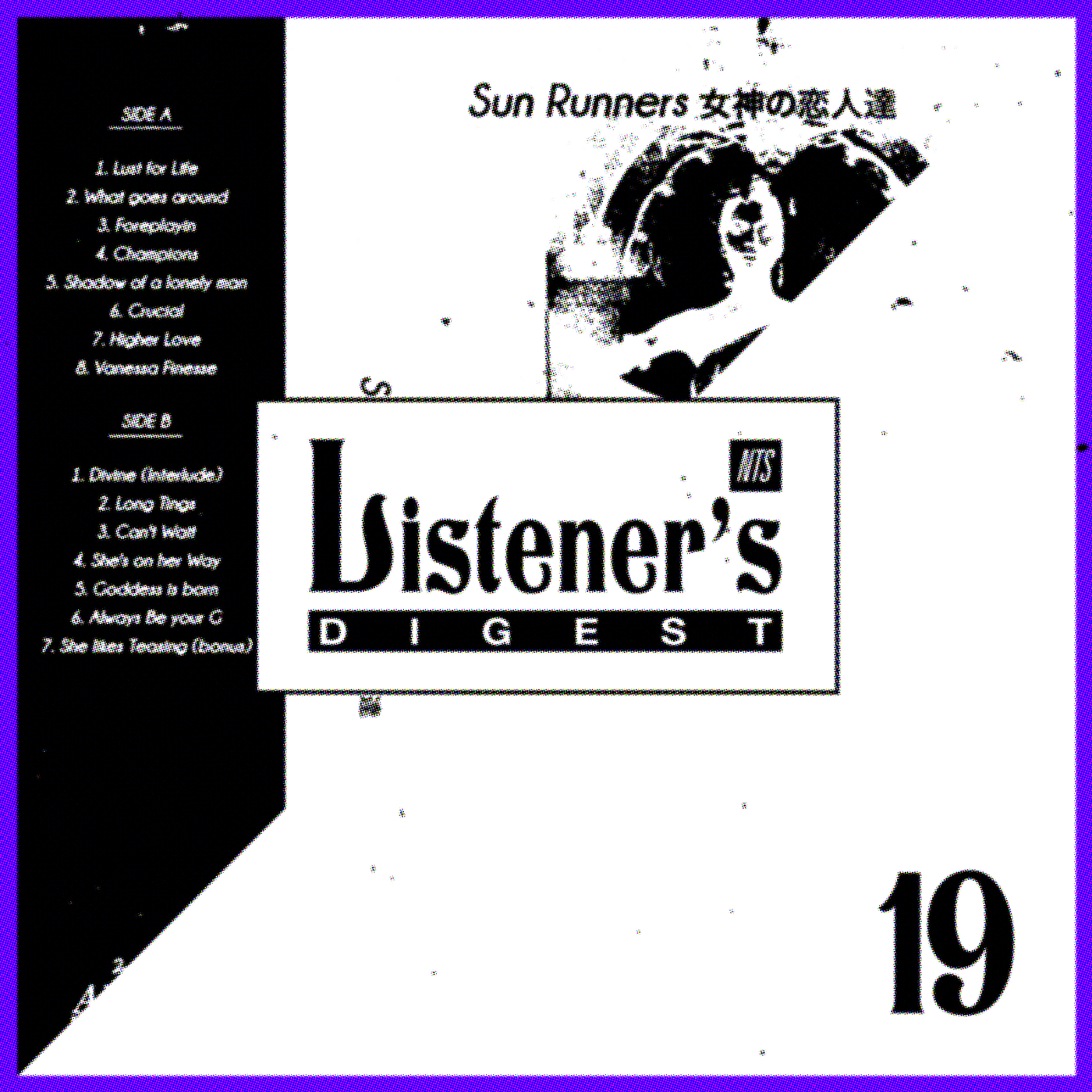 A brief summary of some of the best tracks we've heard on NTS in the past couple weeks.
LO KINDRE - CHLOROPHYTUM (EP)
The chlorophytum is an evergreen perennial flowering plant with long, tuberous, palm-like leaves found in Africa, Australia, Asia, and bedrooms all over the world. It's not hard to imagine Glasgow based "producer, amateur footballer and award-winning bartender" Daniel Magee a.k.a. Lo Kindre surrounded by greenery like this - plants hanging from the ceiling & billowing from pots on the floor as he tinkers with delay pedals and other accoutrements of the home studio, creating the verdant komische & digi-dub soundscapes from this new release on 12th Isle. It's available for pre-order right now on Rubadub.
SUN RUNNERS - LUST FOR LIFE (LP)
The gloriously melodramatic piece of 80s soft focus photography printed across the sleeve of "Lust For Life" was apparently lifted from a picture hanging in Steven Julien's mum's hallway. Other than making you wonder what other kinds of incredible romantic imagery she's got laying around, it serves as a perfect visual metaphor for the beats & edits on this 15 track release. Getting early pre-release plays on The Gaza Strip & Spinorita's Casual Play show, it's nostalgic & breezy, with tracks punctuated by cheap keys and crooning vocal snippets, dreamily channelling the plush audiovisual hyperreality of 1980s slow jams with an obvious affection. It's out (on cassette, obviously) soon on Apron - ideally you'd want to be wearing a toga and feeding your lover grapes while you listen to it, but that's just our suggestion.
MICHAEL O'SHEA - NO JOURNEY'S END

Michael O'Shea, a mysterious figure linked to a nebulous scene of Irish avant-garde and experimental artists from the 1980s, as well as to post-punk icons Wire, had a uniquely odd & storied career, from busking on the streets of Dublin, to recording his spectral, hypnotic music in a former 17th Century Irish nationalist hideout. Journalist & broadcaster Paul McDermott writes of his immense difficulties getting a hold of O'Shea's sole album release, chasing leads to distant far-flung record shops with no joy. However, Dublin's All City have managed to secure a reissue of the record, which features "No Journey's End", this mesmerising 16 minute hammered dulcimer piece.
CRYSTALLMESS - MERE NOISES (EP)
With a self-effacing title like "Mere Noises", you'd be forgiven for thinking this new set of tracks from club producer Crystallmess was throwaway - a few productions uploaded on a whim. The reality is that this EP is a surgically concise statement of intent from the young Parisian. Alongside contemporaries like NTS resident Nkisi, Crystallmess has a wonderful knack for making traditionally tough & intense club rhythms sound delicate - banging reggaeton, footwork & blistering techno are all teased into the shape of musically rich lullabies. Expect plenty more to come from Crystallmess…
G.S. SCHRAY - FIRST APPEARANCE (LP)
After producing the first Last Resort release back in 2017, the Akron based musician and artist G.S. Schray returns with another LP, First Appearance. From the preview tracks on Bandcamp, Schray's sound remains expertly refined, filled with the plaintive melancholy of Midwestern post-rock, with technical art rock flourishes and Balearic-friendly basslines intruding here and there. First Appearance is out on January 25th, but for more in the meantime, re-visit Gabriel's guest mix on the Last Resort show from 2016.
LOFT - ELL OH EFF TEA TOO OH WON ATE (LP)

A startlingly good value 'name your price' Bandcamp compilation from NTS Manchester's resident Loft, packing all her edits and bootlegs from last year into one pleasing zip. Numbering in at over nineteen tracks, there's plenty to listen to here although highlights include a hauntingly stretched Carly Rae Jepsen edit, a Destiny's Child vocal pushed to its very limits and an affectionate remix of the late Blink-182 single Feeling This.
AJRADICO - CANDY
A short and sweet new single from youthful NYC-based rapper and producer AJRadico. Coming in at just under two minutes, this one's best left on repeat, with AJ's subtly auto-tuned vocals floating over the top of an instrumental toeing the lines between hip-hop and dancehall. Definitely one to bookmark for 2019.