Love Letters To Berlin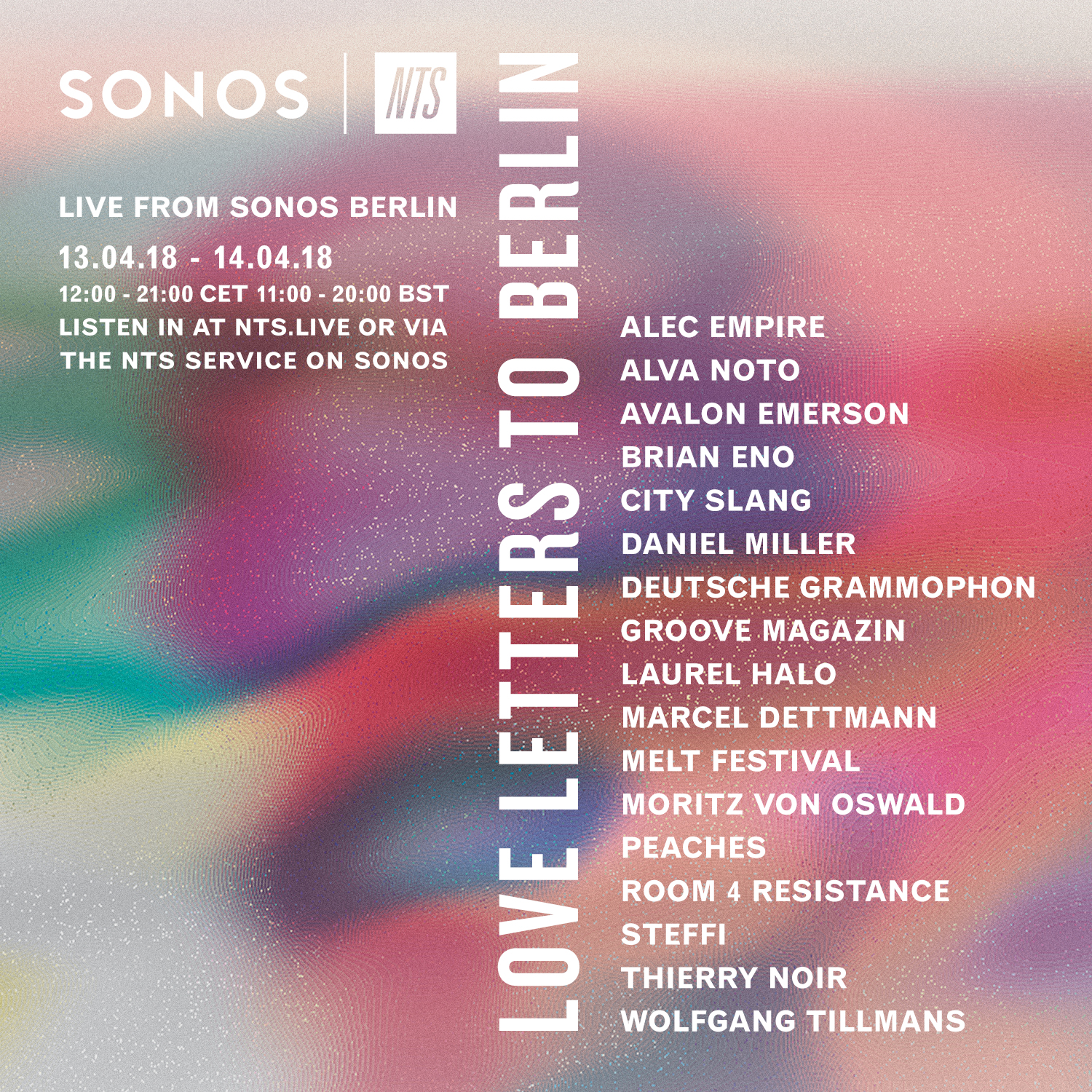 NTS and Sonos present a full weekend of programming celebrating the continued cultural heritage of Berlin, broadcasting direct from the new Sonos Berlin store in Mitte. Tune in via NTS' Channel 2 all day on Friday and Saturday, 13th and 14th April. Hosting shows over the weekend will be a range of special guests, including Brian Eno, Wolfgang Tillmans, Alva Noto, Peaches and many more...
See below for a full listing of the broadcast - all times in Berlin's local CET. For those unable to tune in live, all shows will be archived on the NTS website.
City Slang (12:00-13:00)
Berlin-based independent record label looks back on its thirty year history, including artists such as Tortoise, Schneider TM, Trans Am and To Rococo Rot.
MELT Festival (13:00-14:00)
Hosted by Stefan, director of MELT Festival since 2004 will be guiding listeners through the history of MELT and its long-standing relationship with Berlin.

Avalon Emerson (14:00-15:00)
The Whities-released DJ and producer will be taking over the airwaves direct from SONOS Berlin. Although born in San Francisco, Avalon Emerson rose to prominence whilst creating music and DJing around the German capital.
Peaches (15:00-16:00)
Canadian electro-punk icon Peaches migrated to Berlin following the release of her Lovertits EP in 2000 - tune in from 3-4pm CET to hear her revisit her on-going relationship with the city.
Steffi (16:00-17:00)
Steffi writes a love letter to Berlin with a mix traversing atmospheric IDM and electro - a dusk toned drive through the city that's been her home for more than a decade.
Wolfgang Tillmans (17:00-18:00)
The first photographer and non-British artist to receive the Tate's Turner Prize, Wolfgang Tillmans will be returning to the NTS airwaves to present his own audio love letter to Berlin.
Daniel Miller (18:00-19:00)
The producer and founder of Mute Records will be playing the records that have connected him and Mute to the city of Berlin over the past forty years.
Moritz Von Oswald (19:00-20:00)
As one half of Basic Channel, Moritz Von Oswald was a figurehead in popularising the dub techno sound from the mid nineties. Tune in from 7-8pm CET for his essential selections.
Marcel Dettman (20:00-21:00)
As a resident DJ at Berghain, Marcel Dettman distills the sounds of the German capital into an hour long mix.

Deutsche Grammophon (12:00-14:00)
Deutsche Grammophon is the oldest surviving established record label, based in Germany and specialising in classical music. The first half of this two-hour show will be presented by Clemens Trautmann, focusing on recordings through the years from Berlin's Funkhaus. In the second hour Christian Badzura brings things up to date looking at DG's more contemporary releases.
Thierry Noir (14:00-15:00)
Thierry Noir is a French artist who lays claim to being the first artist to ever paint the Berlin wall. Tune in to hear him expanding on his relationship with the city.
Groove Magazin (15:00-16:00)
Groove is Europe's longest running magazine for electronic music and club culture. Groove's NTS show will be hosted by their editor, Heiko Hoffmann, as he explores the various sounds of Berlin.
Alec Empire (16:00-17:00)
Best known as a founding member of Atari Teenage Riot, Alec Empire has constructed a sonic love letter to the city of his birth, that raised and shaped him like no other; radical and always challenging.
Room 4 Resistance (17:00-18:00)
The queer femme/non-binary collective looking to build communities and create safer spaces with greater visibility for underrepresented artists in dance music. Tune in from 5-6pm CET to hear more about the collective's project.
Alva Noto (18:00-19:00)
Alva Noto is undoubtedly one of German's greatest innovators in electronic experimental music, and has collaborated with many artists throughout his illustrious career, notably NTS favourite Ryuichi Sakamoto as well as Berlin's own Blixa Bargeld.
Laurel Halo (19:00-20:00)
Michigan-born songwriter and composer Laurel Halo reflects on the lasting influence her current city of residence has on her craft.
Brian Eno (20:00-21:00)
The godfather of ambient revisits his work with David Bowie, as well as Berlin's role as a world hub for artists from across the world. He'll also play a track from the soundtrack to his new installation in Berlin, titled 'Empty Formalism.'