MEET OUR NEW RESIDENTS FOR 2023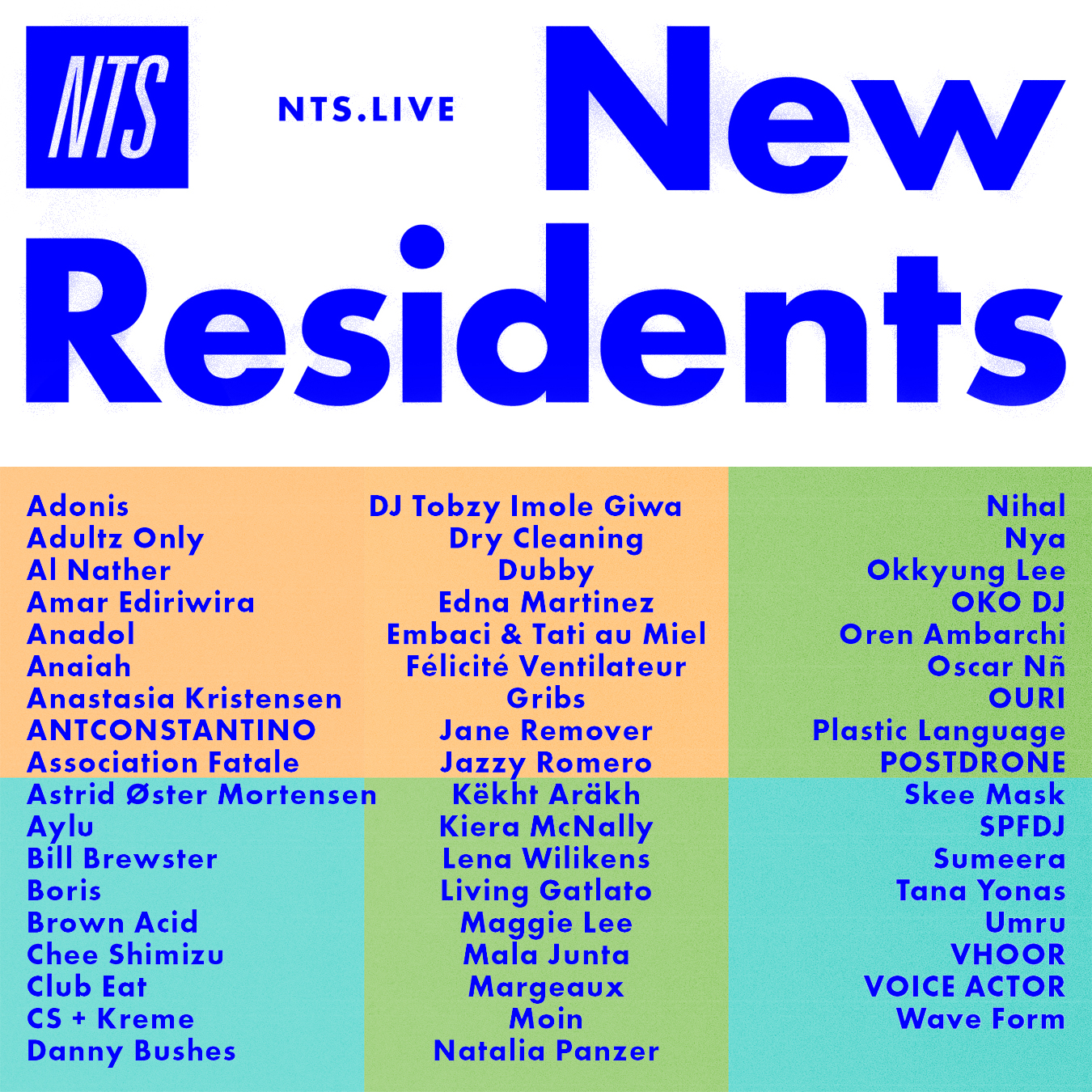 Meet the new residents joining NTS this year. Explore the full line-up of new artists, DJs and personalities below. Featuring everyone from Japanese psych-noise band Boris to left field producer Skee Mask, cult electronic duo CS + Kreme and Berlin techno fiend SPFDJ.
Australian multi-instrumentalist Oren Ambarchi will be hosting his own resident slot alongside South London post punks Dry Cleaning. Old NTS guest favourites Chee Shimizu and Lena Willikens have returned to the fold, whilst the Ukrainain avant-metal solo artist Këkht Aräkh makes his own foray into radio.
Adonis
Adultz Only
Al Nather
Amar Ediriwira
Anadol
Anaiah
Anastasia Kristensen
ANTCONSTANTINO
Association Fatale
Astrid Øster Mortensen
Aylu
Bill Brewster
Boris
Brown Acid
Chee Shimizu
Club Eat
CS + Kreme
Danny Bushes
DJ Tobzy Imole Giwa
Dry Cleaning
Dubby
Edna Martinez
Embaci & Tati au Miel
Félicité Ventilateur
Gribs
Jane Remover
Jazzy Romero
Këkht Aräkh
Kiera McNally
Lechuga Zafiro
Lena Wilikens
Living Gatlato
Maggie Lee
Mala Junta
Margeaux
Moin
Natalia Panzer
Nihal
Nya
Okkyung Lee
OKO DJ
Oren Ambarchi
Oscar Nñ
OURI
Plastic Language
POSTDRONE
Skee Mask
SPFDJ
Sumeera
Tana Yonas
Umru
VHOOR
VOICE ACTOR
Wave Form