NTS 10: A Week Long Broadcast Celebrating 10 Years of NTS Radio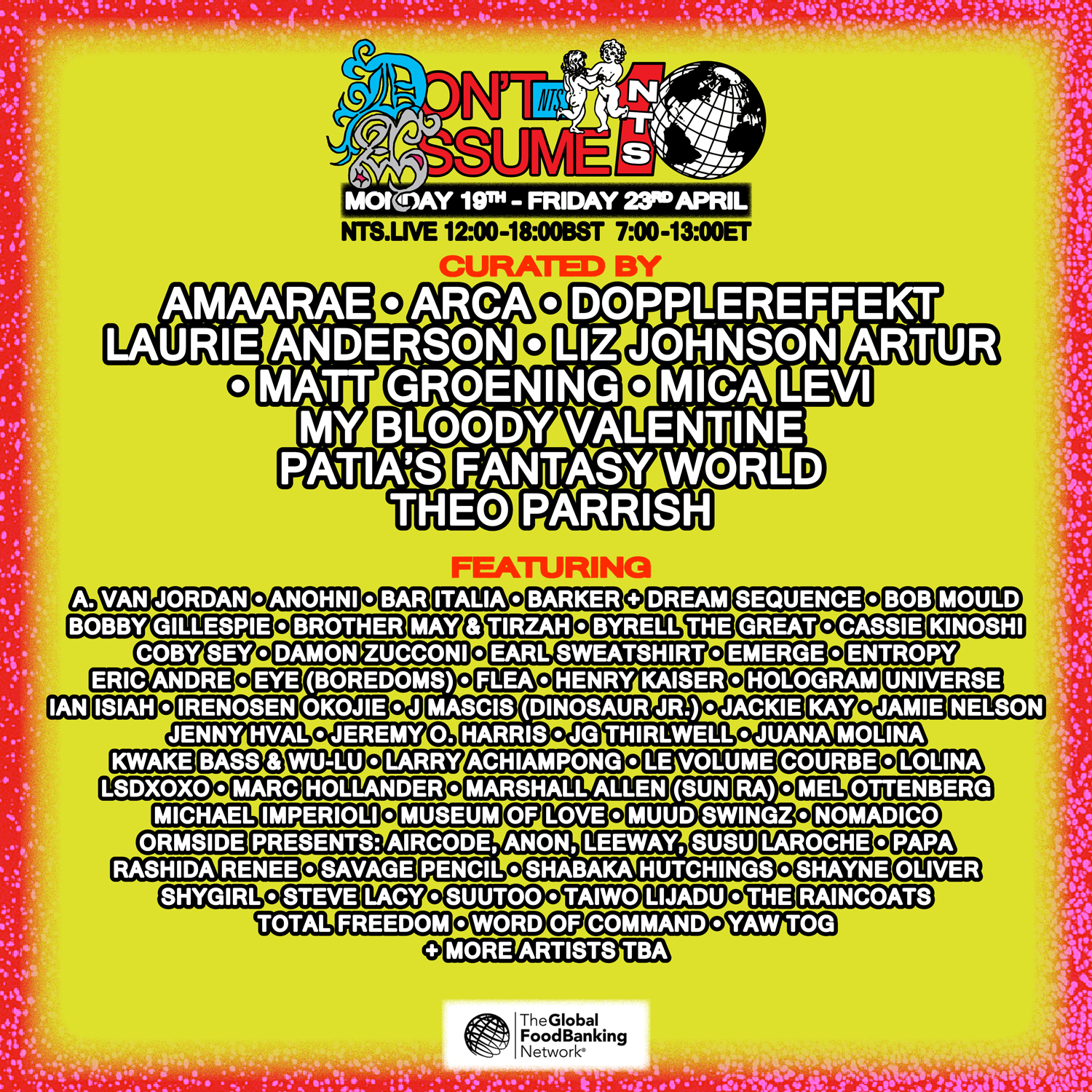 Help us celebrate ten years of live broadcasting with a week-long special broadcast and charity drive for the Global Foodbanking Network: NTS 10. From Monday April 19th through to Friday April 23rd, ten special guest curators will take over NTS, programming both live channels with a mix of guest radio shows, soundscapes, conversations and performances.
Check out the curators and their daily line-ups below, and DONATE NOW to Global Foodbanking Network.
Monday 19th April -
NTS1 - curated by my bloody valentine. Featuring Bob Mould, Bobby Gillespie, J Mascis (Dinosaur Jr.), Le Volume Courbe, Marshall Allen (Sun Ra Arkestra)
LISTEN BACK NOW
NTS2 - curated by Mica Levi. Featuring Bar Italia, Brother May & Tirzah, Coby Sey, Kwake Bass & Wu-Lu, Ormside presents: aircode, Anon, Leeway, Susu Laroche
LISTEN BACK NOW
Tuesday 20th April -
NTS1 - curated by Dopplereffekt. Featuring Barker + Dream Sequence (Leisure System), Emerge (Attenuation Circuit), Entropy, Hologram Universe, Nomadico (Underground Resistance/Submerge)
LISTEN BACK NOW
NTS2 - curated by Amaarae. Featuring A. Van Jordan, Flea, Jamie Nelson, Michael Imperioli, Muud Swingz. Papa, Taiwo Lijadu (Lijadu Sisters), The Raincoats, Yaw Tog
LISTEN BACK NOW
Wednesday 21st April -
NTS1 - curated by Arca. Featuring Damon Zucconi, Lolina, Shayne Oliver, Total Freedom, Word of Command
LISTEN BACK NOW
NTS2 - curated by Liz Johnson Artur. Featuring Cassie Kinoshi, Irenosen Okojie, Jackie Kay, Larry Achiampong, Shabaka Hutchings, Suutoo
LISTEN BACK NOW
Thursday 22nd April -
NTS1 - curated by Laurie Anderson. Featuring Anohni, Jenny Hval, JG Thirlwell, Museum of Love
LISTEN BACK NOW
NTS2 - curated by Patia's Fantasy World. Featuring Byrell the Great, Earl Sweatshirt, Ian Isiah, Jeremy O. Harris, LSDXOXO, Mel Ottenberg, Rashida Renee, Shygirl, Steve Lacy
LISTEN BACK NOW
Friday 23rd April
NTS1 - curated by Theo Parrish. Featuring 6hrs of Theo Parrish
LISTEN BACK NOW
NTS2 - curated by Matt Groening. Featuring Eric Andre, EYE (Boredoms), Henry Kaiser, Juana Molina, Marc Hollander (Crammed Discs), Savage Pencil
LISTEN BACK NOW
...PLUS SOME VERY SPECIAL GUESTS TBA
Throughout NTS 10, we'll be encouraging listeners to donate to The Global Foodbanking Network, giving back to the global community, fighting world hunger through foodbanking and supporting those in need by reducing food waste.
TUNE IN EVERY DAY APRIL 19TH-23RD, FROM NOON BST / 7AM ET
10 SPECIAL GUEST CURATORS TAKE OVER NTS
RAISING FUNDS FOR GLOBAL FOODBANKING NETWORK: DONATE NOW