NTS x Sonos x Hay: The Sound of Colour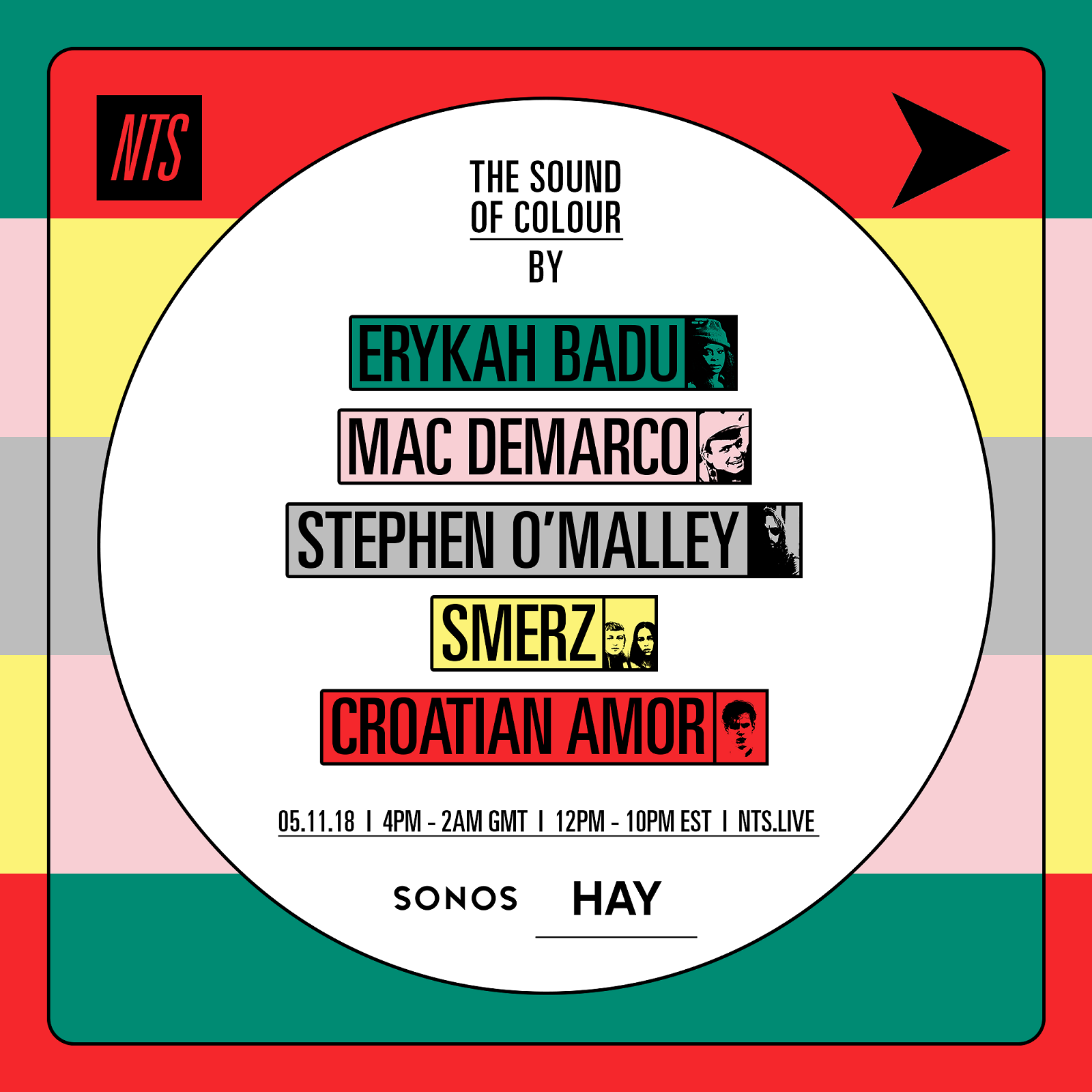 NTS is teaming up with SONOS and Hay to celebrate the launch of their new range through a ten hour radio takeover on November 5th, titled 'The Sound of Colour'. Five different artists will be presenting bespoke 120 minute synaesthetic radio shows based around different colours from the collection. Tune in from 4pm until 2am on November 5th to hear their creations, either by visiting nts.live or through their button on the SONOS app.
CROATIAN AMOR / 16:00-18:00 UK / 11:00-13:00 NY
Danish experimentalist Loke Rahbek will be hosting his own two hour show under his Croatian Amor moniker. Co-founder of the Posh Isolation label and a musician working in the genre of "bubblegum industrial", Rahbek will be wielding a crimson paintbrush with which to paint his show.
MAC DEMARCO / 18:00-20:00 UK / 13:00-15:00 NY
Self-proclaimed 'jizz-jazz' artist Mac Demarco is trying his hand as a selector for the pink edition of The Sound of Colour, packing some suitably rose-tinted music from the lo-fi sleaze of Ariel Pink to saccharine '80s hits from Japan.
ERYKAH BADU / 20:00-22:00 UK / 15:00-17:00 NY
"My eyes are green / 'Cause I eats a lot of vegetables / It don't have nothing to do / With your new friend" - neo-soul icon Erykah Badu will be making her much anticipated NTS debut for The Sound of Colour, presenting a plant-based mix around the theme of all things green.
SMERZ / 22:00-00:00 UK / 17:00-19:00 NY
Norwegian synth-pop duo and NTS residents Smerz are stepping up to the synaesthetic plate with two hours of yellow-charged selections. For those feeling impatient, you can check out some of their previous resident shows for a sneak preview.
STEPHEN O'MALLEY / 00:00-02:00 UK / 19:00-21:00 NY
Best known from his pioneering work for the genre of drone metal as frontman in Sunn O))), Stephen O'Malley will be using the in-between shade of grey as creative springboard for his show. Tune in to expect "other fidelities, in the haze, murk, obscurantism, borderline, liminality, decayed tape, beauty of distortion, saturation."