WOMEN OF VIDEO GAME MUSIC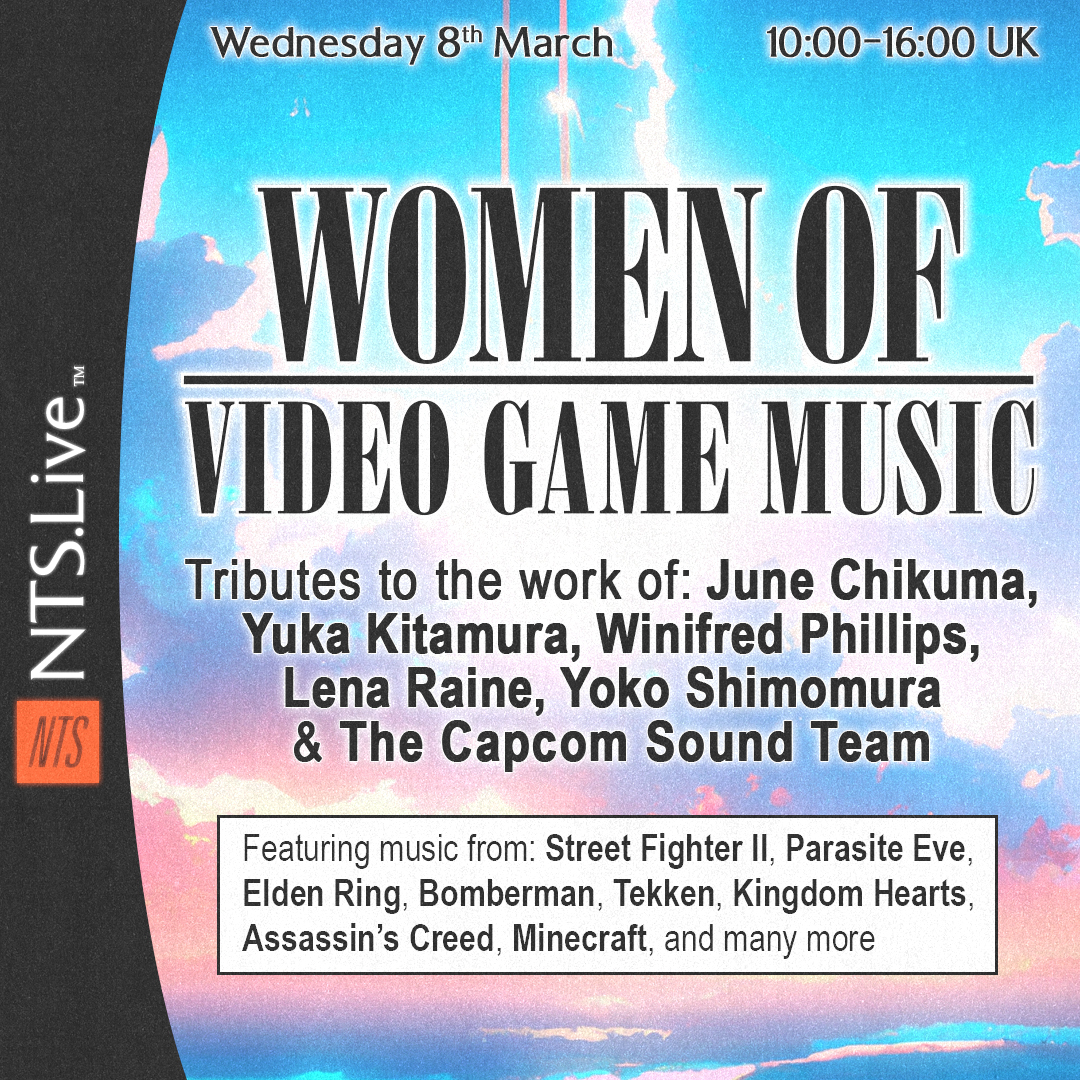 Tune into NTS 2 this Wednesday, 8th March as we pay tribute to the influence of women video game composers. From early Japanese pioneers, like the women from Capcom's Sound Team who quietly impacted a male-dominated industry in the 1980s, to contemporary artists like Jun Chikuma and Winifred Phillips, continuing their legacy expanding video game composition into sweeping orchestral scores and dance music.
Across six episodes, from 10am to 4pm GMT, the special broadcast goes deep on their music, featuring sounds from NES classics, Minecraft, Elden Ring, the Bomberman series, Tekken and lots more.

👾10:00 - 11:00am: Lena Raine
A contemporary star of video game composition, award-winning US/Canadian musician Lena Raine has lent her talents to small-budget productions and blockbuster releases alike, from cult classic platformer Celeste, to sweeping huge scale projects like Guild Wars 2 and Minecraft.
👾11:00 - 12:00am: Yuka Kitamura
As lead composer at FromSoftware, the Japanese developer deeply beloved by hardcore gamers across the world, Yuka Kitamura has soundtracked the virtual deaths of millions of players. Her music, which soundtrack the tough-as-nails worlds of Dark Souls, Elden Ring, and Sekiro: Shadows Die Twice, is as tense and foreboding as the worlds themselves.
👾12:00 - 13:00pm: Winifred Phillips
Filmic orchestral movements and moments of gaming grandeur from US composer Winifred Phillips, whose credits include games from the Assassin's Creed and God of War series.
👾13:00 - 14:00pm: Capcom Sound Team
Often working on rudimentary and opaquely designed "chiptune" hardware, and asked to use pseudonyms to avoid the approaches of rival video game companies, the women of Capcom's seminal Sound Team, including Kumi Yamaga, Manami Matsumae, Tamayo Kawamoto, Harumi Fujita, and Junko Tamiya, composed a multitude of now iconic video game and arcade standards, for titles like Castlevania, 1943, Mega Man, and more.
👾14:00 - 15:00pm: Yoko Shimomura
Yoko Shimomura holds a rare accolade, having written music for two giants in the video game music cannon: Capcom and Square. Starting her career at Capcom as part of their Sound Team, she composed for Final Fight, Street Fighter II and other titles before moving to Square. She might be most well known for her swansong at the company, composing for the classic RPG Kingdom Hearts before leaving in 2002.
👾15:00 - 16:00pm: June Chikuma
A Japanese composer whose work spans across TV, film, and commercials as well as video games, most gamers will recognise June Chikuma as the artist behind the effervescent and club-influenced tunes from Hudson Soft and Konami's long-running Bomberman series.